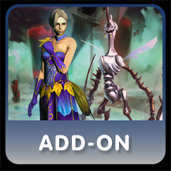 The Alchemist pack is Downloadable Content available on the PSN. It was released on 22nd November 2007 and costs £1.49 to download. The size of the download file is 71MB.

Description
Head back to Doolin as the paranormal goings on continue with this pack of four extra sidequests, which each take place during the timeframe of the original Folklore adventure.
In this pack Ellen heads for undersea city in search of her mother, whilst other quests will find you collecting stones for a mysterious alchemy experiment and clearing away folks who are blocking the elevator in Hell Realm.
Also included is a special costume for Ellen, plus an additional folk to capture - and this one's sure to get your head in a spin...
Content
Quests
Folks
Costumes