The Bridge House Pub is the most lively place to be on a night in the Village of Doolin.
During the daytime, the Pub Landlord runs the place, but during the night time, Ganconer and a handful of other Half Lives appear.
This pub is the only place that Ellen and Keats can view and accept quests and once these quests are completed or failed, this is the location they will be returned to.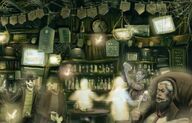 In one quest that Ellen takes, the Half Lives anticipate a performance from the infamous Charlie at the pub. However, he can't until he receives a new reed for his saxophone. After Ellen gives him Faery Wood for his reed in the Faery Realm, Charlie is now prepared for the concert. Unfortunately, once at the pub, when everyone waits for him to begin, he realizes that he has no lungs to play the saxophone with.
Ad blocker interference detected!
Wikia is a free-to-use site that makes money from advertising. We have a modified experience for viewers using ad blockers

Wikia is not accessible if you've made further modifications. Remove the custom ad blocker rule(s) and the page will load as expected.