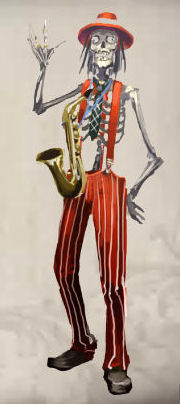 Charlie Rawhead is a strange half-live saxophonist, he appears to be a skeleton with dreads, red pinstripe pants and matching hat. He is said to play beautiful music but no one has really heard him play because he has no lungs. Scarecrow is his friend.
Charlie is the focus of the Quest The Gig, unlocked in Chapter 1.
Emytology
Edit
Charlie is of Old German origin, and it means "free man".
This skeleton is never seen without his trademark saxophone.
Ad blocker interference detected!
Wikia is a free-to-use site that makes money from advertising. We have a modified experience for viewers using ad blockers

Wikia is not accessible if you've made further modifications. Remove the custom ad blocker rule(s) and the page will load as expected.