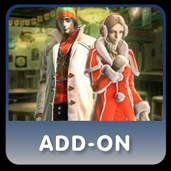 The Christmas Present is Downloadable Content available on the PSN. It was released on 13th December 2007 and is free to download. The size of the download file is 77MB.

Description
It may be the holiday season, but in Doolin, the mysterious events and ghostly goings-on show no signs of stopping...Continue your adventures in the magical realm of Folklore by downloading the Christmas present pack!
This pack contains a festively-themed sidequest, set during Keats and Ellen's original adventures in the Netherworld. There's also a special gift in the form of an extra Folk to catch and, of course, a Christmas costume for both characters.
Content
Quests
Folks
Costumes