The Daru is the metamorphosis of a mature oak tree. Often revered as the king of the forest, its presence and broad expansiveness have won over many a faery.
This folk is only available with Ellen and can be acquired from the Faery Realm.
Daru's Data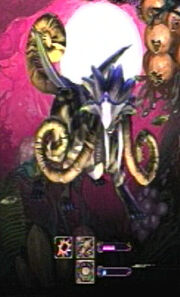 Attack Type
Mid-range, non-elemental area attacks. Extends vines on chin to attack wide frontal area. Release karma to improve MC consump. & attack power.
Karma Release
Item Drops
Recommended Strategy
A Sleep element attack, with a folk such as Cait Sidhe, will cause a red Id to show instantly. Otherwise, try to attack from the side to avoid Daru's tentacle attack from the front.
Ad blocker interference detected!
Wikia is a free-to-use site that makes money from advertising. We have a modified experience for viewers using ad blockers

Wikia is not accessible if you've made further modifications. Remove the custom ad blocker rule(s) and the page will load as expected.