Prehistoric clothing found under ancient ruins.
This cloak becomes available by default in the Prologue and is visible when Ellen enters the Netherworld.
This is also the same cloak that Lulu wore, though there is no visible evidence of her donning it.
Other variations of the Cloak of Sidhe
Edit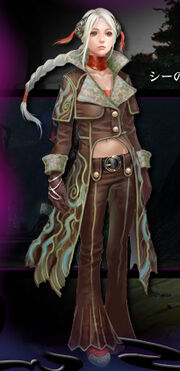 Ad blocker interference detected!
Wikia is a free-to-use site that makes money from advertising. We have a modified experience for viewers using ad blockers

Wikia is not accessible if you've made further modifications. Remove the custom ad blocker rule(s) and the page will load as expected.