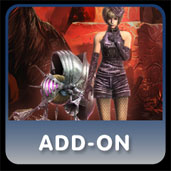 The Kidnapped Folk pack is Downloadable Content available on the PSN. It was released on 25th October 2007 and costs £1.49 to download. The size of the download file is 78MB.

Description
Edit
Download this pack to add another layer to the Folklore mystery with four side quests. Set during the timeframe of the original story. This is your oppurtunity to return to Doolin-gateway to the Netherworld and take Ellen and Keats' extraordinary adventure a little bit further. The quests include a mission to recapture a kidnapped Folk and an attempt to regain the trust of Brumbear's soldiers...
The pack also includes an additional Folk to defeat and a special costume for Ellen.
The description from the Playstation Store states that Keats gets a new costume but it is in fact Ellen.
This packet is not available in certain Countries.
In the Austrian PS Store (maybe in others too) this downloadable content is hidden, although you are still able to find it by using the search bar.
Ad blocker interference detected!
Wikia is a free-to-use site that makes money from advertising. We have a modified experience for viewers using ad blockers

Wikia is not accessible if you've made further modifications. Remove the custom ad blocker rule(s) and the page will load as expected.