---
---
Livane
Race
???
Relations
Belgae (associate)
Keats (associate)
Faery Lord (nemesis)
Voice Actor
Lucy Robinson
Livane is a Messenger, just as Ellen is. Her guardian was apparently Belgae, and it is because of her spear in the tree at the Netherworld Core that the human world has largely forgotten about the Netherworld.
Livane also appears to be the leader of the rebel denizens (in Warcadia and other Realms), and the Endless Corridor is her base of operations--her home. It may be that the Folklore of Endless Corridor, Fleshrum (sometimes called "Deadly Hearts") was created by Livane in an effort to stop the Faery Lord's advance through the Realms.
Livane is also a boss fought in the Netherworld Core during Chapter 7, and can be fought either with Ellen or with Keats.
She has a barrier that must be attacked with Destroy Folks such as Bargest or Ga-dearg or Folks by Type Wind such as Garbera and it's recommended the Livane herself be attacked with Water folks such as Peg Powler.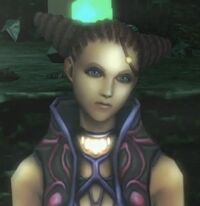 Ad blocker interference detected!
Wikia is a free-to-use site that makes money from advertising. We have a modified experience for viewers using ad blockers

Wikia is not accessible if you've made further modifications. Remove the custom ad blocker rule(s) and the page will load as expected.