The Mabinogion is a collection of stories of adventure and romance. Its personality differs depending on the page opened.
This folk is only available with Ellen and can be acquired from the Endless Corridor.
Mabinogion's Data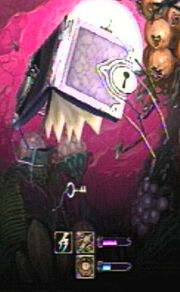 Attack Type
Mid-range, thunder element area attacks. Spins slowly, releasing electric shocks to area. Release karma to up the number of electric shocks.
Karma Release
Item Drops
Recommended Strategy
Use a high reaching Water element folk such as Peg Powler to instantly make the red Id appear.
 Origin
Named after the earliest known prose book of Britain.
Ad blocker interference detected!
Wikia is a free-to-use site that makes money from advertising. We have a modified experience for viewers using ad blockers

Wikia is not accessible if you've made further modifications. Remove the custom ad blocker rule(s) and the page will load as expected.