The palette shows the four
folks
currently assigned to the

,
,

and

buttons corresponding to the four circles in the top-right of the screen.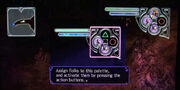 If you would like to use the folk in the circle at the top, simply press or hold the

buttton to attack or guard. Note that this will only work if you have enough MC to attack with.
Folks can be added or removed from the palette by pressing

to open the Change Folks Screen. On this screen, simply scroll left, right, up or down then press one of the

,
,

or

buttons on the folk you want, press

again to close the screen.

Ad blocker interference detected!
Wikia is a free-to-use site that makes money from advertising. We have a modified experience for viewers using ad blockers

Wikia is not accessible if you've made further modifications. Remove the custom ad blocker rule(s) and the page will load as expected.