Always at the front stopping the enemy attack, the face on each Patriot's shield shows a different emotion.
This folk is available with Ellen and Keats and can be acquired from Warcadia.
Patriot's Data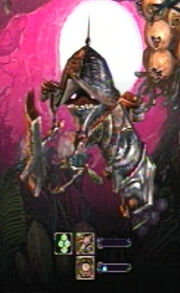 Attack Type
For Ellen: Forward guard. Depress button to guard Ellen continuously. No protection against attacks from behind.

For Keats: Forward guard. Provides unlimited guards while button depressed. No protection against attacks from the rear.
Karma Release
For Ellen:
Use 1 Golden Ore - MC Consumption lowered

For Keats:
Use 5 Green Dust - MC Consumption lowered
Item Drops
Recommended Strategy
When Patriot holds its shield up, all attacks to its front will be blocked. Either attack from beind or wait for the shield to lower. Ellen should try to use thunder, water or destroy element folks. It is recommended to use Ga-boi to stun it or Degasser. Keats should knock down the Patriot with Brummbear and finish it off with Ga-dearg, however, an earth element attack can be used to cancel Patriot's act.
Ad blocker interference detected!
Wikia is a free-to-use site that makes money from advertising. We have a modified experience for viewers using ad blockers

Wikia is not accessible if you've made further modifications. Remove the custom ad blocker rule(s) and the page will load as expected.