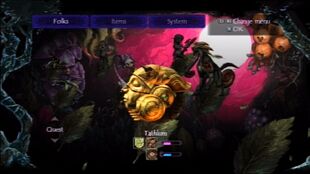 A mysterious weapon that belongs to neither the robot army nor the guerrilla band. Some say there's a deserter Bullseye inside, out for revenge.
This folk is only available with Keats and can be acquired from the quest Lost Annwn in Chapter 3.
Tathlum's Data
Attack Type
Destroy element charges. Deploys an energy field and charges. Release karma to improve MC consump. & attack power.
Karma Release
 Origin
Named after a magical stone from Celtic folklore. It means "concrete ball" and was actually the brain of a defeated enemy hardened with lime.
Ad blocker interference detected!
Wikia is a free-to-use site that makes money from advertising. We have a modified experience for viewers using ad blockers

Wikia is not accessible if you've made further modifications. Remove the custom ad blocker rule(s) and the page will load as expected.