There's at least one of these evil spirits clinging to everyone. When it whispers words of death into his ear, even the healthiest man weakens and dies.
This folk is available with Ellen and Keats and can be acquired from the Endless Corridor.
Thrumpin's Data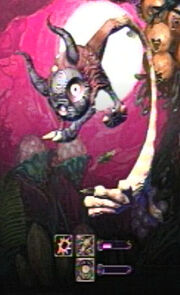 Attack Type
For Ellen: Mid-range, non-elemental area attacks. Downs enemy with spinning, downward slash attacks. Release karma to improve MC consump. & attack power.

For Keats: Non-elemental charges. Spins and slashes downwards, often felling enemy. Release karma to improve MC consump. & attack power.
Karma Release
For Ellen:

For Keats:
Item Drops
Recommended Strategy
Thrumpin will always appear in groups and should be attacked with large area effecting folks such as Bargest. Ellen can also use Bond element folks such as Dracae to help keep them under control.
Ad blocker interference detected!
Wikia is a free-to-use site that makes money from advertising. We have a modified experience for viewers using ad blockers

Wikia is not accessible if you've made further modifications. Remove the custom ad blocker rule(s) and the page will load as expected.