The Treant came into being when a spirit settled into a millennia-old tree. Having feet to run around with now makes it simply overjoyed.
This folk is only available with Keats and can be acquired from the Faery Realm.
Treant's Data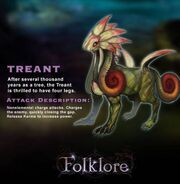 Attack Type
Non-elemental charge attacks. Charges the enemy, quickly closing the gap. Release karma to improve MC consump. & attack power.
Karma Release
Item Drops
Recommended Strategy
Stay away from the front to avoid Treant's claws. Attack from the back or side with any normal folk.
 Origin
From Dungeons & Dragons' creature of the same name, inspired by Tolkien's Ents.
Ad blocker interference detected!
Wikia is a free-to-use site that makes money from advertising. We have a modified experience for viewers using ad blockers

Wikia is not accessible if you've made further modifications. Remove the custom ad blocker rule(s) and the page will load as expected.