The Ulbyr cannot stand an enemy faster than itself so if it encounters one, it entangles it in a gluey mucous and cackles with glee.
This folk is only available with Ellen and can be acquired from the HellRealm.
Ulbyr's Data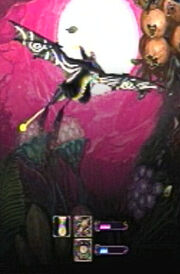 Attack Type
Mid-range, Bond element attacks. Spews stick bullets that immobilize the enemy. Release karma to improve MC consump. & attack power.
Karma Release
Absorb 3 Ulbyr Ids - Attack Power increased
Absorb 5 Ulbyr Ids - Attack Power increased
Use 5 Warm Tree Nuts - MC Consumption lowered
Item Drops
Recommended Strategy
Avoid Ulbyr's Bond Shot and Body Slam and attack with a high hitting folk such as Garbera.
Ad blocker interference detected!
Wikia is a free-to-use site that makes money from advertising. We have a modified experience for viewers using ad blockers

Wikia is not accessible if you've made further modifications. Remove the custom ad blocker rule(s) and the page will load as expected.